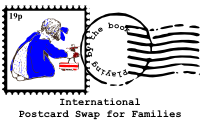 Zoe at
Playing by the book
recently sent me an email inviting me to participate in an
International Postcard Swap for Families
that she is hosting.
I quickly agreed to play along, because I think the Monster will get quite excited about it, and it's a great opportunity for him to see that mail can be more than the stickers and hockey cards that his grandpa sends him from Canada from time to time.
The idea is this:
Send postcards to 5 families (she will provide us with 5 addresses of others participating in the swap), and receive postcards from 5 different families. She is hoping that there will be enough international participation that each of us will receive mail from at least 3 different countries.
(Monster is
into
countries. Carnivorology is still his primary passion, but he digs countries, too. So this will be a great way for him to maybe learn about or feel a connection to some new ones. Of course, when the World Cup starts in June, he will be in flag- and country-learning bliss).
Your postcard can be store-bought or home-made, and you can write whatever you want on it, though she suggests offering a kids' book recommendation, as an interest in kids' literature is what brings her readers together. She also
recommends some books
to read with the kiddies about sending and receiving mail.
I'm planning to let the Monster tell me what to write, if he wants to, and I also think that recipients would probably love to just hear a little bit about where we live.
All the details about how to sign up are
here
.
The deadline for signing up is Friday, April 30
th.
And if, by chance, you are one of the people I get assigned to send a postcard to - be patient! - mail takes its time here in Macondo.